Butterfield Trail Elementry ‼️Back to School - Mark your calendars‼️ 💥 BACK TO SCHOOL BASH 💥 Friday, August 9th - 5-6pm Meet your teacher, find your classroom, bring school supplies, buy school shirts, make meal deposits, get bus route info .... AND get snow cones from the KONA Ice truck! 📚CURRICULUM NIGHT 📚 →Kindergarten - Thursday August 8th at 6:30pm← 1st & 2nd Grade - Monday, August 19th at 6:30pm 3rd & 4th grade - Tuesday, August 20th at 6:30pm Childcare provided 🐴 FIRST DAY OF SCHOOL 🐴 Tuesday, August 13th ✏️ School Supply list can be found at
https://butterfield.fayar.net
✏️ ❓If you have questions, the Butterfield office is open 8am - 3pm 470-444-3081
•This is a new process and includes all students for all grade levels. •The window for check-in is July 29- August 9. •Please login and confirm your student's information. •A link with login information will be sent to every parent by email or letter the week of July 22-26th. • If you do not receive your child's login information by July 26th, please email
fps-inform@fayar.net
.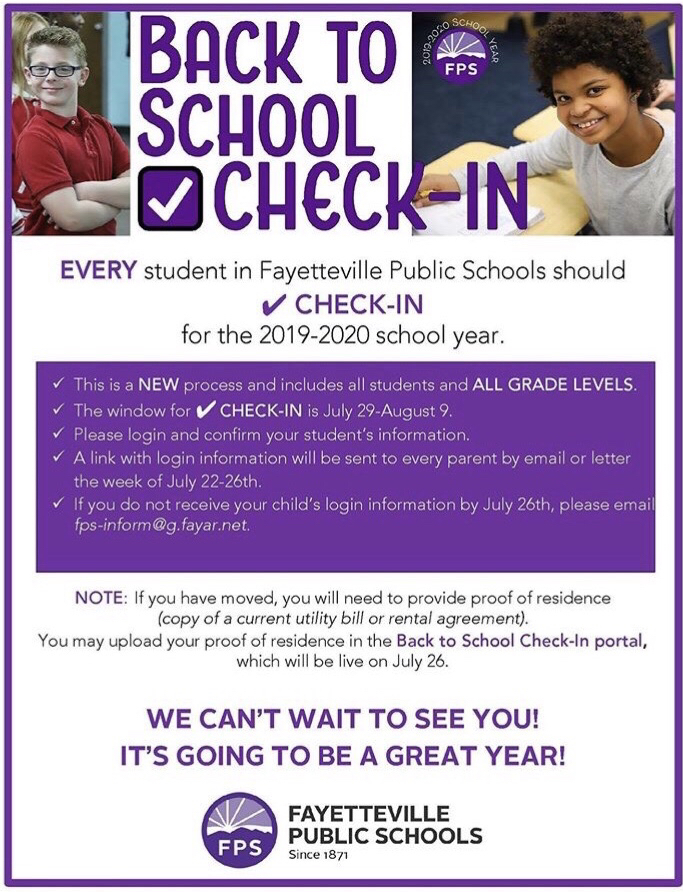 Tuesday, August 13th is the First Day of School!
Tuesday, August 20th is 3rd & 4th Grade Curriculum Night at 6:30 pm
Monday, August 19th is 1st & 2nd Grade Curriculum Night at 6:30 pm
Thursday, August 8th is Kindergarten Parent night at 6:30 pm
All Fayetteville Public Schools are closed today (Monday, March 4) due to the early morning snowfall affecting road conditions.
Book fair is almost here! Join us February 25th-March 1st, 8:00am-3:00pm Join us on February 27th for our Annual Grandparents Lunch!
Butterfield Trail Elementary Thanksgiving lunch is on Thursday, Nov. 15th. Look under "News" for specific information on lunch time change.
Butterfield Trail Elementary is having our Spirit Night this Thursday, November 8th. Treat yourself to delicious pizza from 4:00 - 10:00 at Damgoode Pies. Tell them you are with Butterfield and we will get 10% of the sales donated!!!! Choose Dine-In, Carry-out, or Delivery!!

Bronco Academy Online Registration starts now!!! Check out the "NEWS" for links and more information.

Head on over to our PTO Facebook page to see the silent auction items. You won't want to miss it! Fall Carnival is 5-7 tomorrow!!!

Don't miss the LIVE AUCTION during the Fall Carnival! The Live Auction begins at 5:30 on the stage and will include some of the items that are most sought after each year at the of the auction.

Fall Carnival is scheduled for October 13, 5-7!

NO SCHOOL!!! Friday the 28th is teacher in service, which means no school for students.

Don't forget to come to our Spirit Assembly Thursday the 27th, 8:30 - 9:30!


It's BOOK FAIR week!! September 17th-21st Dress up Day - Tuesday the 18th - Magical Theme (unicorns, fairies, magician, etc) 🦄🧚‍♂️ DAD OR BUDDY LUNCH SEPTEMBER 19TH COIN COMPETITION! The winning class of each grade wins an extra recess and the teacher uses the funds to buy books for their classroom library! Monday-Pennies Tuesday-Nickels Wednesday-Dimes Thursday-Quarters Friday-Dollars

Join us for the Butterfield Enchanted Forest Book Fair September 17-21! There will be special events each day and all proceeds will be used to purchase books and enrichment supplies for the Butterfield Trail Library! 📚 🦄 🦌

Did you know you can download our app and get all the information you need right from your phone? Download Fayetteville Public Schools app and search your child's school.

Don't forget to bring your school supplies to the back to school bash on August 10th. If you forget, you can bring it the first day/week of school.

First day of school is August 13th!

Meet your teacher, see your classroom, get your car rider tags, get a meal application and deposit, get PTO information, and much more at our Back to School Bash on August 10th!

Get your BTES t-shirt!!! BLAZING THE TRAIL FOR 50 YEARS

Don't forget Back to School Night is August 10th, 5-6 pm